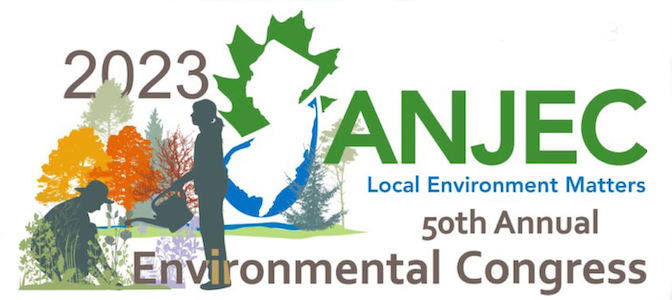 Join ANJEC for our 50th Environmental Congress!
ANJEC is pleased to offer our 2023 Environmental Congress in hybrid format:
Friday, October 13th, 9am-5pm
The Conference Center at Mercer County College, West Windsor
October 13 Highlights include:
Keynote Speaker: Lisa Flavia Garcia, USEPA Region 2 Administrator
Featured Speaker: Shawn LaTourette, NJDEP Commissioner
Three workshop sessions, click here for full workshop descriptions(CEUs are available, see workshop descriptions for more information)
 Thirteen different workshops with topic choices including:

New Jersey's New Inland Flood Hazard Rule
Warehouse Sprawl has arrived in New Jersey!
Navigating NJ's Policy Landscape: Flood Policy & Open Space Funding Updates and Resilience Strategies
A 2050 vision for land protection and urban greening in NJ
Land Use Tools for Environmental Commissions
Hydrogen on the Renewable Energy Horizon
Addressing Water Quality Locally in a System Designed for Polluters
How Environmental Leaders Can help Restore Biodiversity
The new MS4 permit is here. Are you ready?
Computer Lab Mapping Training
and More!

Land Trust Focused Workshop Options
CEUs are available, see workshop details for more information
**ANJEC 2023 Environmental Achievement Awards
**Special Elected Official Awards Presentation
Exhibitors -Non-Profit organizations and Environmental Professionals
Special Celebration of ANJEC's 50th Environmental Congress! 

Including special presentation to our honored guest: NJ State Senator Bob Smith, Chair Senate Environment & Energy Committee
Tuesday, October 17th through Thursday, October 19th
Virtual Sessions
(Virtual sessions will be recorded and available to all registrants for review)
ANJEC is pleased to have the New Jersey Land Trust Network
as a featured partner for this 50th Environmental Congress
Including special Land Trust focused workshop sessions
Early registration ends on September 30th, register now before price increase.
Scholarships to attend are available, email info@anjec.org for more information
Workshop Descriptions Revised9.28.23 with CEUs (1)